Acknowledgements and Bibliography
The Old Lennensians Association gratefully acknowledge the contributions of the following people and organisations in the compiling of this web site
Michael Walker
- former Head of KES (1990-2002). Michael has made a significant contribution to both the Honours Boards and School History sections.
He is the author of - King Edward VII School - A Centenary Celebration, (Book Guild Publishing, 2005), K.E.S. Tales, (King Edward VII School, 2006),
Diary of a Grammar School, (K.E.S. Publications, 2010)
WEST NORFOLK & KINGS LYNN HIGH SCHOOL FOR GIRLS 1886-1979 KES Publications. Michael Walker's new book on the history of the school is for sale at Waterstones and other outlets. The book can also be ordered for £12.95 post free from Springwood High School, Queensway, King's Lynn, PE30 4AW
Bob Booth
- OLA Committee Member. Bob has kindly provided photographs for the History Section. He has published a number of photographic histories of King's Lynn.

King's Lynn in the 1930's, Looking Back at Lynn ~ a scrapbook of the 50s & 60s, Memories of Lynn (1950 to 1975), King's Lynn Schools, Another Look Back at Lynn ?(1945 to 1970), King's Lynn, An Illustrated Directory (1960)
Part of the proceeds from the sale of these publications has been generously donated to Local and National Health Care Charities, and The OLA are pleased to be able to support Bob's endeavours.
Bob's New Book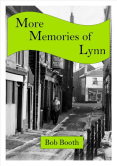 Bob Booth's books are now available on his Web Site
Chris Dixon -
member of staff KES. Chris kindly supplied the Great War Memorial Details. He has researched all the former pupils and the details are published in his book.
Dixon, C.J. This Saddening List: The War Memorial (World War 1), King Edward VII School, King's Lynn.
[ISBN 0955470412, Hill View Consultants, 2006] Recommended viewing Amazon Book Review
LENZMAN
(Peter Rye)
We are grateful to Peter for allowing us to use his photograph of the School at night on our Welcome page. Peter is the father of former pupil Lawrence James Rye (1993-2000). You can see a slide show of Peter's stunning photographs of King's Lynn at night by visiting his website.
Prudential Group Archives

We are very grateful to
Morgannis Graham
of
Prudential Group Archives
for allowing us to use their section about Sir William Lancaster